Entresort de 20 min pour 16 enfants et 4 adultes.
"Là-bas" is a child like any other. Well, he is a little different: he is made of cloth. It is because he is made of sewn fabric that all these adventures happen to him. Through shadow theatre, image projections, puppet and actor's play, magic permeates the space and the story appears, sensitive, fragile, funny too, with the idea of offering something like a moment of humanity...
Diffusion et démarche pédagogique
This show offers a thousand possibilities for dissemination.
The caravan is set up like a small theatre and allows the organiser to place us wherever he wishes. The themes dealt with can be divided into two main areas: difference and housing issues. These subjects are of great interest to children and lead to beautiful discussions, while remaining in the lightness of a moment carried by a dreamlike aesthetic and above all a very endearing and sympathetic puppet.
Il est également possible de combiner les représentations avec un atelier de théâtre d'ombres.
The school caravan - A project that delighted everyone - urgently needed again!
La caravane a tourné dans les écoles de la Commune de Houyet . Les représentations ont été suivies par des ateliers théâtre d'ombre sur le thème « l'acceptation de l'autre dans sa différence  » – Un grand sujet , encore et toujours d'actualité – Un très beau projet : le théâtre au coeur de l'école , faire ce rencontrer là la citoyenneté et l'art est créateur de très beaux échanges , profondément humain!
The result was the creation of 69 scenes written, designed and performed by the children.
A project like this is still wanted, advice to directors, teachers, parents.....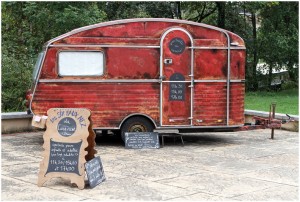 « La Caravane » est déjà passée par là…
Numerous street theatre festivals including Namur in May, the Festival Théâtres Nomades (Brussels), the Festivals of puppet theatre such as those of Charleville-Mézières, Tournai, Bernay....
Art trails, residential campsites, Christmas markets, numerous neighbourhood festivals...
This show is intended to be performed in schools, in centres for "different" children, in refugee centres, in gardens, in other countries and in your own way...
Infos pratiques
Durée 25 min.
Young audience from 5 years old
Forme  Entresort dans une caravane aménagée
Versions Français / Anglais / Allemand / Néerlandais / Espagnol
Disciplines  Manipulation de marionnette / Projection vidéo / Théâtre d'ombres
Presse
Vingt-cinq minutes de bonheur Place de l'Horloge ! – (Le Dauphiné Libéré, France)
Il suffit de voir les sourires des enfants quand ils retrouvent la lumière : Ils rayonnent de bonheur! – (La Provence, France)
Distribution
Avec Benoit Creteur ou Bernarhd Zils et Barbara Moreau
Mise en scène Benoit Creteur
Construction marionnette Barbara Moreau
Scénographie Benoit Creteur et Barbara Moreau
Co-Production Le Centre Culturel Régional de Beauraing et La Roseraie
DOWNLOAD THE DISSEMINATION FILE